Welcome to the Ore no Nōnai Sentakushi ga, Gakuen Rabu Kome o Zenryoku de Jama Shiteiru Wikia!




This wiki is dedicated to everything related to the series NouCome, that anyone can edit!
Please help by editing or adding articles and lessening the stubs. We currently have made 3,406 edits, created 119 articles, and uploaded about 331 images on this wiki, since its creation on October 10, 2013.

Amakusa Kanade is a high school student who is suffering from a curse called "Absolute Choices" (絶対選択肢 Zettai Sentakushi). This curse requires him to select an action from a list of two or three options that appear before him at any time, and has no control over what choices appear. Many of them are weird or perverse and as a result, the curse has tainted his reputation with his classmates and other people around him, making his life very difficult.

However, one day, a choice he makes on his way home from school causes a mysterious, beautiful young girl to fall from the sky. Amakusa discovers that she was sent from the God World to assist him in completing a series of missions given to him directly by God himself. After completing these missions, the "Absolute Choices" curse will be lifted from Amakusa; but should he fail in completing any of the missions, he will be stuck with the curse forever.

Characters • Light Novel • Anime • Music

The wiki is still very incomplete, and we need your help in filling up this wiki with information about NouCome. Here's how you can help:
Look for article stubs or short pages. Expand the articles that are tagged with the Stub template, and try to add more information on short pages.
Create an article needed by the wiki.

Red links

are a sign of nonexistent pages. Click on these red links to create an article, or see the list of wanted pages here.
Organize articles by using categories. As this wiki builds up, putting things together under a common tag is a necessity. Adding categories not only help readers in looking for contents they need, but it also eases the job of fellow editors in going around the wiki.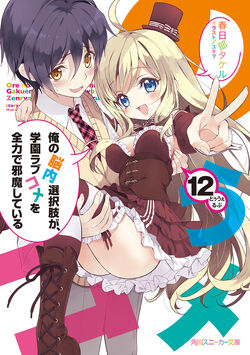 Ore no Nounai Sentakushi ga, Gakuen Love Come wo Zenryoku de Jama Shiteiru 12
Released February 1, 2016
ISBN 978-4-04-103542-9