NouCome: Terms
Edit
The school where Kanade and the other characters attend. Each of the year will have 15 classes. The students here will vote for the most popular students for both male and female category twice a year.
Popular RankingEdit
The students who are placed in the top five ranking for both female and male students in Seikou Private School.
The Reject FiveEdit
The vote in Seikou Private School for "The person with behavior and personality problems will not become the romantic love subject". Its purpose is to determine the top five most disappointing handsome beauty.
The pattern has became a five set match for boys and girls in the anime.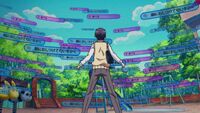 The "Absolute Choice" is actually a name given from Kanade Amakusa due to it being curse that requires him to select an action from a list of two or three options that appear before him. The options will float in his head but other people beside him are unable to see it. Even the God cannot get rid of the curse. The choices usually appears with two selection, but sometimes later, it will has three options.
The mission given by God will regularly reach the cursed person's mobile phone at a specific time and place. It must be completed by the affected person before the time limit. A "Mission Complete" message will be sent to the affected person, indicating its completion after reaching certain requirements. Though, the mission doesn't have the slightest connection of getting rid the curse; as its purpose is to make the options gradually change, and since it will be lifted immediately after the affected person fall in love with someone.
However, if the affected person failed to comply the mission, the Absolute Choice curse will no longer be able to break.